Description
1 x Kiehl's Calendula Deep Cleansing Foaming Face Wash (30ml)
1 x Kiehl's Calendula Herbal-Extract Toner Alcohol Free (40ml)
1 x Kiehl's Ultra Facial Cream (7ml)
1 x Kiehl's Iris Extract Activating Treatment Essence (40ml)
1 x Kiehl's Ultra Facial Overnight Hydrating Mask (7ml)
1 x Kiehl's Super Multi-Corrective Eye-Opening Serum (3ml)
1 x Kiehl's Lip Balm #1 - Original (3ml)

Product:
Kiehl's Holiday Limited Edition Gift Set (7 Items)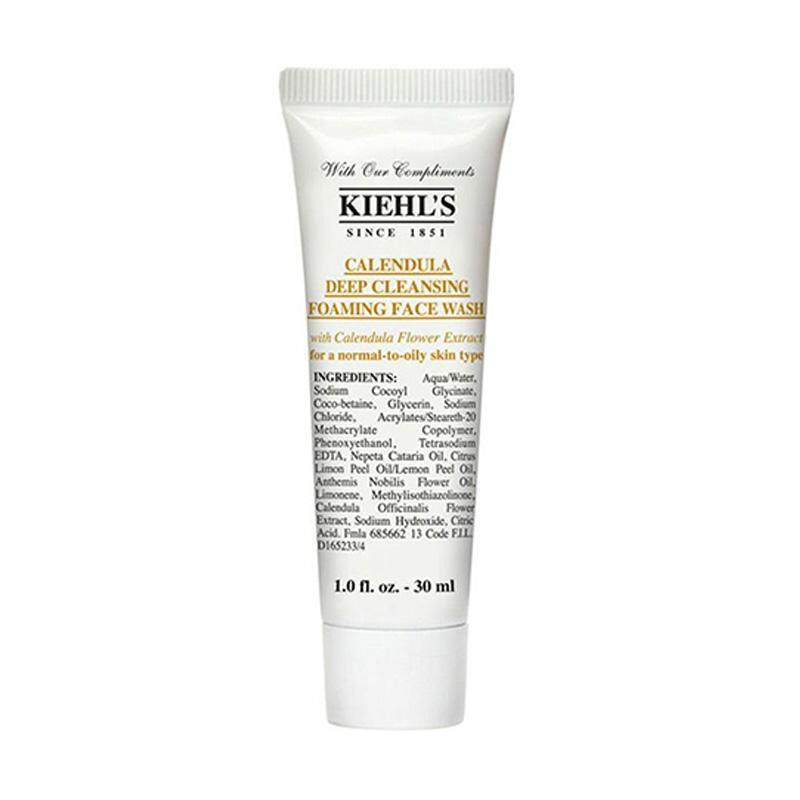 Descriptions
Cleanse and refresh skin with our efficacious foaming cleanser. Infused with Calendula and Glycerin, this creamy gel formula activates with water to create a dense foam. Cleanse away impurities and dirt with this effective, yet gentle cleanser for oily skin and normal skin.
? Gently lifts away impurities, dirt and oil
? Deeply cleanses skin without over drying or stripping
? Help skin look and feel instantly refreshed and revitalized
? Formulated with Calendula Extract and Glycerin
? For normal skin and oily skin

How to Use
1. Cleanse and apply toner.
2. Apply mask adjusting around the eye and mouth.
3. Leave on for 10 minutes. Remove mask and gently pat remaining serum until fully absorbed.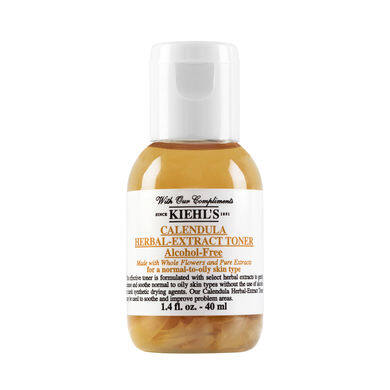 Description:
This effective toner is formulated with select herbal extracts to gently cleanse and soothe normal to oily skin types without the use of alcohol or harsh synthetic drying agents. Our Calendula Herbal-Extract Toner may be used to soothe and improve problem areas.
Cool Kiehl's Fact: The calendula petals in our unique formula are still inserted by hand in the Kiehl's apothecary tradition to assure the most efficacious formula

How To Use
• Moisten a sterile cotton pad with toner, and apply to skin in areas where needed, avoiding the eye area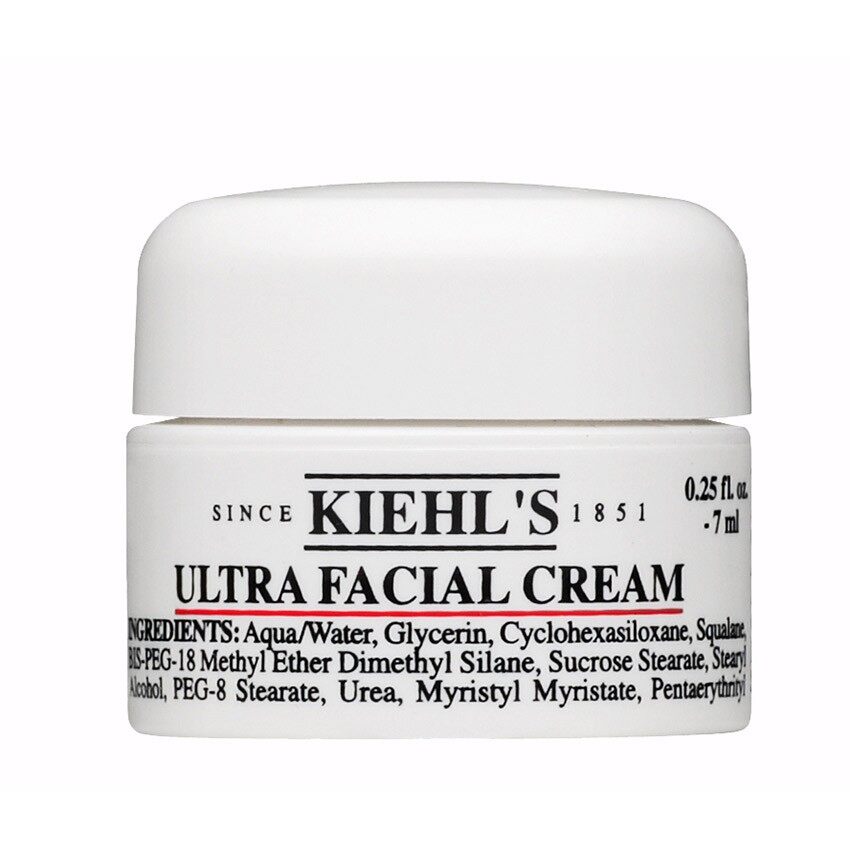 Description
This Kiehl's classic face cream offers continuous moisture replenishment for dry skin throughout the day with adventure-tested protection from severe weather.

? Replenishes skin hydration by drawing and absorbing moisture from the air
? Leaves skin smooth, soft and healthy-looking
? Formulated with nature-powered ingredients like Squalane, Glacial Glycoprotein Extract and Imperata Cylindrica
? Formulated for all skin types
? #1 Kiehl's product

Heritage Highlight
Through Ultra Facial Cream, Kiehl's was honored to lend support and protective skincare products to "Greenland First Ascent" expedition team. On May 30th, 2005, six explorers completed the first ascent of Greenland's ice-covered peaks.

How to Apply
1. After cleansing and toning, apply a dime-sized amount to your fingertips
2. Massage onto face in a circular motion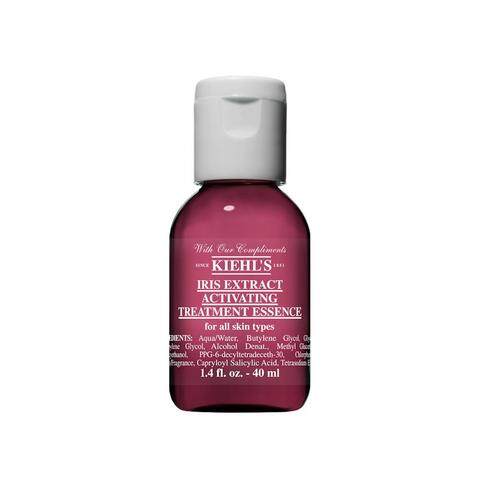 Description:
With age, skin's texture begins to look rough and radiance is lost. The causes are three-fold: skin's hydration levels and cell turnover rate decrease, and the integrity of the skin's layers is reduced. To reactivate these properties and impart essential nutrients, Kiehl's proudly introduces Iris Extract Activating Treatment Essence – a multi-action formula that optimizes penetration of subsequent skin treatments and instantly reveals radiant, smooth and younger looking skin.

How To Use
Pour 3-4 drops into palm of hand and press hands together. Gently press onto cheeks, forehead, chin and neck. Starting at the neck, use your fingertips in a gentle press and release motion, moving upward to the chin in circular shape around the jawline. Move up to the cheeks creating a second circular shape over the entire cheek area. Move up over the bridge of the nose, continuing over the forehead finishing at the temples.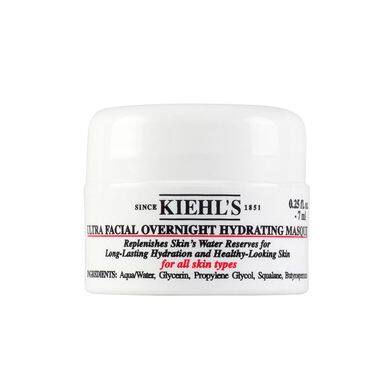 Description:
Our hydrating mask for dry skin intensively moisturizes skin overnight. Infused with Fountain Plant, Glacial Proteins and Desert Plant Extract, this overnight face mask helps smooth and soften skin while you sleep.

- Replenishes skin's water reserves for long-lasting hydration
- Leaves skin feeling refreshed, soft and supple by morning

How To Use
- After cleansing, apply a healthy layer of moisturizing face mask onto clean skin
- After 10 minutes, tissue off excess
- Do not rinse
- Allow to work overnight
- In the morning, follow your normal regimen
- Use once a week before bed
- If desired, may be used twice weekly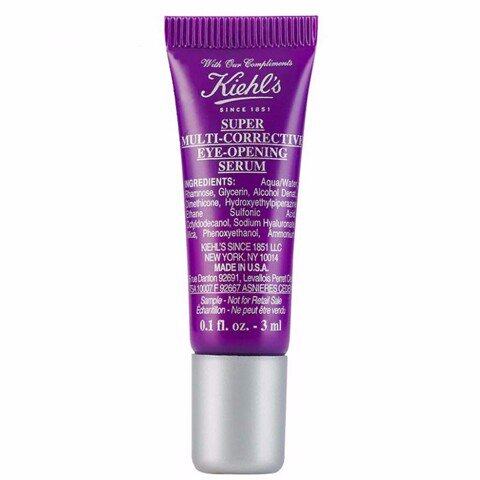 Description:
Visibly lift, firm and smooth the eye area with our super smart anti-aging serum for eyes. This potent formula helps visibly reduce the appearance of crow's feet, dark circles and under-eye wrinkles. Apply this eye serum by itself or with an eye cream.
- Visibly firms and smoothes the eye area in less than one week*
- Smoothes and hydrates skin to restore a youthful appearance
- Formulated with Sodium Hyaluronate, the sodium salt of Hyaluronic Acid, 10% Botanical Extracts and Skin Illuminating Minerals
- Clinically-tested to help restore a youthful shape to eyes and improve the appearance of lines, wrinkles and crow's feet*
- In a clinical test, 95% of women showed a significant improvement in eye opening**
- Suitable for sensitive eyes

How To Use
- After cleansing, apply morning and night around entire eye area
- Gently pat eye serum from the inner corner, under the eye, towards temples
- Continue along the orbital bone and over the eyelid
- Can be used alone or under an eye cream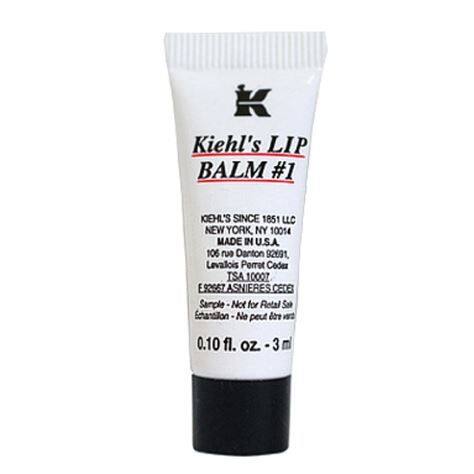 Description
Temporarily protects and helps relieve chapped or cracked lips. Helps protect lips from the drying effects of wind and cold weather.
Helps protect lips from the drying effects of wind and cold weather
Formulated with soothing emollients Squalanea, Lanolin and Wheat Germ Oil, as well as Vitamin E

How To Use
- Apply liberally, and allow an excess of the balm to be absorbed
Reviews (0)
view all
back